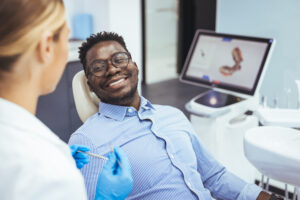 Taking care of your body and your health may seem as though it is a straightforward concept. In all actuality, there is often much more than meets the eye. You see, your oral health is influenced by a great many of factors, and because of this, it is very important to stay on top of your regular preventive dental routine. Keep in mind, however, that nontraditional oral health concerns such as chronic bruxism and sleep apnea have even larger, total-body effects on your overall health. In today's blog, your Houston, TX dentist looks at the role of an oral appliance, and what you should know about sleep issues.
Correcting Problematic Breathing
From a young age, your parents and/or guardians likely emphasized the need for regular dental prevention. This can range from how often you should be brushing and flossing at home to the need for attending regular checkup and cleaning appointments. What you might not be aware of initially, however, is that some concerns can actually transcend the traditional oral issue and become a total-body problem.
An example of this phenomenon includes that of sleep apnea. You see, sleep issues or disorders are particularly dangerous due to the way they impact your overall health. Sleep apnea is a disorder that occurs when the throat muscles relax and cause the air passage to become restricted. The lack of appropriate oxygen levels causes you to gasp for air and experience irregular or problematic breathing while you slumber.
To combat the issues presented above, your dentist or sleep disorder specialist may recommend the use of an oral appliance. To learn more about this process and how our team can help, give our office a call today.
Opening the Air Passage
An oral appliance can range in terms of makes, models, and goals, but overall serves the purpose of protecting your health by opening the air passage. When a person experiences the signs or symptoms of sleep apnea or bruxism, the cause often has to do with relaxed throat muscles restricting the airway. Devices such as a CPAP machine may help encourage higher oxygen levels, but it is an oral appliance that aims to correct the issue of a relaxed air passage. Contact our team to learn more about this process today.
Protecting Your Pearly Whites
In addition to correcting the issues we mentioned above, an oral appliance can also serve an important role in protecting your teeth. You see, teeth grinding may be a result of sleep issues, and the effects include wearing down your natural structures. With the help of an oral appliance, you can rest assured knowing your teeth are protected.
Learn More Today
To learn more about the many roles of an oral appliance and how our team can help, contact SleepWell Houston in Houston, TX by calling 713-796-9600 and schedule your next appointment with our team today.